Our first session of Dog Talk was a success. Check back soon for announcements on upcoming Dog Talk classes.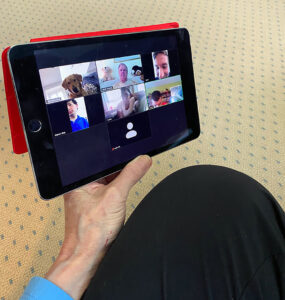 Dog Talk is a special program Nellie's Schoolhouse is presenting virtually via Zoom on select Saturdays in October – December. The program is designed for children in grades fourth through eighth (Parents are welcomed to join us if they wish).
Our 7-week journey is for every child who loves dogs as well those who might be a bit nervous around canines but are thinking they want to take steps to connect with a forever friend.
The first Dog Talk is scheduled for October 17 at 1:30 pm and our last session is on December 12 at 1:30 pm. Each session will take place for an hour and will have a unique theme! Take a look at our offerings.
Class Descriptions
Week One (October 17): Dog Advocacy. In this class, we will learn about what we can do to save and care for dogs that are abandoned, neglected, or abused. An expert from Main Line Rescue will join us as we also discover the steps needed to adopt a shelter dog and what we can expect when we bring our furry friend home for the first time. Class runs from 1:30 pm to 2:30 pm.
Week Two (October 24): A Dog's Health. Join us and a veterinarian and groomer as we learn what we need to do for our dog's health. We will investigate vaccinations, dental and ear care, exercise suggestions, and monthly and yearly check-ups. We will also find out why we must keep our dog properly coiffed and what we need to do to maintain a dog's healthy coat. Class runs from 1:30 pm to 2:30 pm.
Week Three and Four (November 7 & 14): A Dog's Job. During these two weeks, we will learn all about what dogs do for us – as pets, therapy dogs, and service dogs.  We invite you to listen to and learn from a member of a canine police force, an expert in therapy dog work at the Children's Hospital of Philadelphia, and the head of the therapy dog program at the Philadelphia International Airport. Be part of this class as we find out the wonderful things dogs do for humans. Classes run from 1:30 pm to 2:30 pm.
Week Five (November 21): The Basics. We ask you to join us as we learn the basics of dog ownership. Understand how to approach, feed, pet, brush, and walk a dog in public plus gives commands. If you have a dog at home and he/she can be part of this class, we are more than happy to have your canine friend with us, but a dog at hand is not required. Class runs from 1:30 pm to 2:30 pm.
Week Six (December 5): Sharing Our Dog Stories. Share stories, videos, and pictures of your furry friend(s) as we celebrate all we love about our four-legged companions. We want everyone who joins us to be willing to tell our participants what you love about your dog and any other dog you have met. Class runs from 1:30 pm to 2:30 pm.
Week Seven (December 12): Nellie's Birthday Bash. Celebrate Nellie's Schoolhouse's fifth birthday. Meet our wonderful volunteers and their terrific canines we recognize five years of Nellie's. Hear from participants in the program who have learned and grown from their experiences with the dogs and humans of Nellie's Schoolhouse. Class runs from 1:30 pm to 2:30 pm.
Register for Dog Talk
There is no charge to participate in Dog Talk. A donation to Nellie's Schoolhouse would be much appreciated. Once you sign up for our program, you will receive a Zoom link approximately two (2) days before each class.
We are thrilled to be presenting Dog Talk and hope children and parents (if they so wish) will enroll to be part of this exciting educational journey. Please join us by signing up. We look forward to seeing you soon!
Be sure to register by October 15th to ensure you are part of the first class!