Even though Nellie's Schoolhouse was unable to make in-person visits to our partners this fall, we connected with some of our friends via Zoom.
What We've Done in Quarantine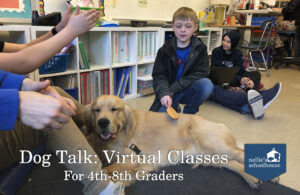 We met with 25 adults from JCHAI (Judith Creed Horizons for Achieving Independence) in October, November and December, teaching and learning about dog body language, the amazing services canines perform for all of us, and the roles dogs play in our lives. We agreed that dogs are the best!!
Nellie's was also a partner of Carousel Connections to whom we offered and taught our first Dog Talk class in October, November and December. The teachers and students learned about veterinarian care, the story of rescue dogs, the world of dog therapy and the art of canine police work. Guest speakers included Caryn Harris from Main Line Animal Rescue, Dr. Anal Caskey from the St. George Hunt Memorial Animal Hospital, Lisa Serad from the pet therapy program at CHOP, Leah Douglass from the Philadelphia International Airport's dog therapy program and Officer Cardell and his canine partner, Sabu, from the Norwood Police Department. We also received several updates from Barbara Coupe on the arrival of her new puppy, Shelby, and the steps needed to acquire a new dog.
Lastly, we also offered our virtual Dog Talk class to 4th-8t h grade students from the Philadelphia and beyond during the autumn months. We even had a student from South Africa! Using the curriculum described above, we ended our course with recognition of human and canine volunteers from Nellie's Schoolhouse and heard stories of their therapy work these past several years. One of our participants in the course gave a wonderful presentation about a Great Dane hero that is honored with a statue in South Africa.
We thank all the students, teachers and volunteers who were part of our fall virtual offerings. Please look out for more Dog Talk classes to come this winter!
We remain hopeful that our important on-site work will resume this coming spring. We will virtually remain connected to our partners in the months ahead, helping our participants, through creative programming and video interactions with us and our dogs, to continue to increase their self-confidence, improve their socialization and communication and to simply enjoy all things "dog. "
Thank you for your continued support of Nellie's Schoolhouse. We wish you and your families a safe and happy holiday season. May peace and healing wash over us all.