Nellie's Schoolhouse Presents "A" Train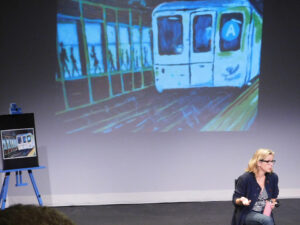 On October 4 and 5, Nellie's Schoolhouse was proud to present "A" Train, an awarding winning play, written and performed by Anne Torsiglieri who traveled from California to support us. Over 135 people attended the two performances at Theatre Horizon as well as a reception beforehand where attendees learned about the mission and accomplishments of Nellie's Schoolhouse.
All those who attended saw a wonderful show and a marvelous performance by Ms. Torsiglieri. We thank her, her technician, Michael Klaers, Theatre Horizon, our sponsors, volunteers, their dogs, donors and all those who attended for their support, investment and belief in our program.  We also thank Zeke, Millie and Franklin, our canine friends, for greeting everyone and bringing joy to our celebration.
At the Friday show we were also pleased to present board member and volunteer, Kit Feldman, with our first annual Nellie's Schoolhouse Appreciation Award. Kit was well deserving of this honor that acknowledges the recipient's generous spirit, full heart and commitment. Congratulations, Kit!
We Are Looking Forward to a Busy Autumn
Our fall schedule is fully underway. We are now visiting The Talk School, The Norwood School, Judith Creed Horizons for Achieving Independence, The Woodlynde School, The Quaker School of Horsham, The Hilltop School and St. James School. We thank these schools for our gratifying and productive partnerships with them.
Nellie's Schoolhouse Continues to Grow
We welcome Brianna Sefton and her dog, Cali, to our already outstanding group of volunteers. We are excited that we have another talented volunteer team, and we thank Brianna for joining us. Brianna and Cali have already been visiting Hilltop Preparatory School every Wednesday afternoon.
Many thanks to our human and canine volunteers:
Kit Feldman and Franklin and Millie
Caryn Harris and Max
Brianna Sefton and Cali
Julie Kronfeld and Piper
Barbara Zuckerman and George
John Cappelli and Zoe
Michelle Krietsch and Daisy
Beth Burns and Brinks
We wish you a healthy and happy fall as we enter our fifth year of existence. We are blessed to connect with wonderful adults and children who have so many gifts. Our work is forever joyful!