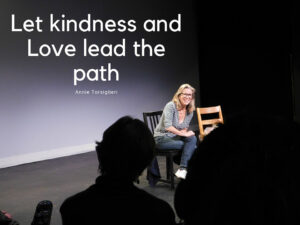 Annie Torsiglieri, a mother, a star, and a dog-lover took to the stage at Horizon Theater this past weekend to share her award-winning solo artist play about her journey as a mother of a child who identifies as autistic. This 90-minute piece took the audience on her journey of discovery, learning, and loving her young son Davie's challenges and gifts. The play tells the story of how she helped support Davie and how she fought for him when the systems in society tried to hinder him or put him in a box. Not only did she dive deep into her own story, but she also started a meaningful conversation during a Q&A that followed her show. Nellie's Schoolhouse had the opportunity to continue that conversation in an interview with Annie about what she learned about herself and autism as she did her research to write A-Train.
It took eight years for Annie to write this play. She always knew she wanted to write and perform this story, but as a full-time mother, wife, and teacher it was hard to find the time to write it, let alone perform it. The time came when her twin boys were seven years old. That's when she had time to reflect on "how I changed as a mom, as a human being, on our journey with our son. I think that was very eye-opening and my having to reflect on that really helped." From there, Annie  began to interview people in the world of autism: family members, specialists, teachers, and those who identified as autistic themselves. She shared these stories with us because:
"I believe in the power of storytelling as a force to educate, elucidate, and inspire. I want to start a deeper conversation about autism and the needs of autistic individuals themselves. I want to empower them and I want to try to engender even more acceptance than we already have."
She said that she performs her story so the general public "doesn't put somebody into boxes." In her research she found that 85% of funds for research into autism goes towards genetics and causation. "In my opinion, it should be spent on supporting the people who are autistic…we should stop the in-fighting takes on autism and work together to support all the varied needs." She emphasized her point by saying there is an urgency to meet this need because, "we are about to have a huge population explosion of people who are aging out of the school system who are really going to need our help, and I don't think we are ready for that." 
The systems to help the aging autistic community vary state by  state, but ultimately according to Annie, "we need to be doing a hell of a lot more." The Child Mind Institute estimates that nearly 200,000 21 to 22 year olds are expected to age out of the system over the next five years. Grassroots organizations are meeting that need and their positive effects are seen and greatly appreciated by the autistic community, especially by mothers like Annie.
"These kinds of grassroot organizations are what really can make the difference between a family or individual falling through the cracks and having meaningful connections, meaningful social engagement, social skills, and most importantly, being a part of a community. It is easy for that to disappear once they age out of the school system, so I am so grateful to Nellie's Schoolhouse for their mission."