Nellie's Schoolhouse enjoyed a busy winter and is looking forward to a terrific spring.
January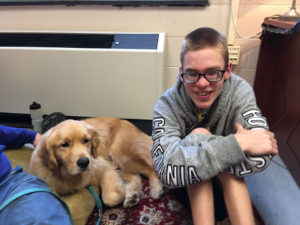 In late January, we hosted an appreciation brunch for volunteers and members of our board at Azie on Main in Villanova. 30 people attended, and were treated to several informative and compelling speeches from Ben Kogan (father of Danny who has worked with Nellie's for three years), Michelle Krietsch who volunteers with her dog, Daisy, and Caryn Harris who serves as both a board member and volunteer with her canine, Max.
We are appreciative for all our board members and human and canine volunteers do to make Nellie's Schoolhouse such a special organization.
---
February
In February, Nellie's Schoolhouse visited Rosemont School of the Holy Child as part of its school-wide community service day. We talked to 12 lower school students about the important roles that dogs play in our world and especially about therapy dogs that give so much support to children and adults with disabilities.
We thank not only Holy Child for having us and but also our volunteers, John and Beth, and their dogs, Zoe and Brinks for coming.
---
April
In early April, we visited the Tarleton School in Devon and had a wonderful time with 6 energized preschoolers. The children learned how to pet, brush, feed and walk a dog and did so with much focus and politeness.
Thanks to Tarleton for having us and thanks to our volunteer, Julie Kronfeld and her wonderful dog, Piper, for their enthusiastic involvement.
---
New Year, New Friends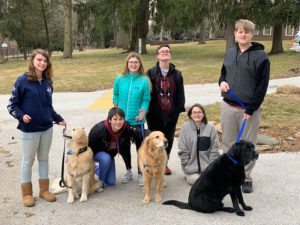 We have added several new partnerships in the past six months. We are now connected to the Norwood School Special Education Program in Prospect Park, the Quaker School of Horsham and the Hilltop Preparatory School in Rosemont.
At Hilltop, we taught our Dog Walking 101 to six talented and invested high school students who learned how to become able and professional dog walkers. We thank Coral, Larry, Samantha, Faith, Jason and Mary Kate for their enthusiastic participation.
We also thank Kit Feldman and her dog, Millie, Barbara Zuckerman and her dog, George, Beth Burns and her dog, Brinks and Caryn Harris and her dog, Max, for their time and effort.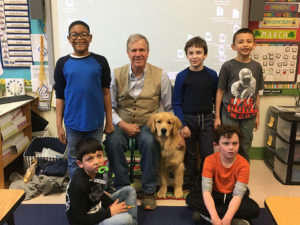 In addition to our new partners, we are working with the following schools that remain committed to our mission:
Arch Street Preschool
A Step Up Academy
Camp Pegasus
Judith Creed Homes for Adult Independence
St. James School
The Talk School
Uwchlan Hills Elementary School Autism Support Program
The Woodlynde School (lower, middle and upper schools)