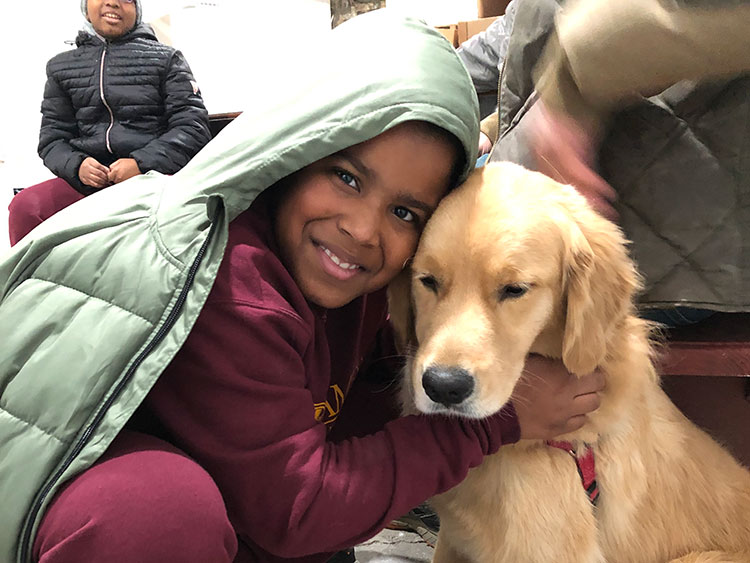 The fall of 2018 was busy for Nellie's Schoolhouse.
We continued to be part of the afterschool club program at the Woodlynde School in Strafford. 
The volunteers and their sweet dogs enjoyed the six- week program with the Woodlynde lower school students, and congratulations to the participants on their enthusiasm, attention, and participation.
We returned to St. James School in Philadelphia in October, and are enjoying our time with their fourth and fifth grade students.
Renewed Connections
We renewed our connection with the Talk Institute and School, in Newtown Square, A Step Up Academy in Jenkintown, Uwchlan Hills Elementary School Autism Support Program in Downingtown and the Judith Creed Homes for Adult Independence in Bryn Mawr in November.
We are pleased to announce a new relationship with Norwood Elementary School (part of the Interboro School District) in Norwood as well as the Hilltop Preparatory School in Rosemont.
Nellie's Schoolhouse is also participating in the Friendship Circle in Lafayette Hills for three Sundays in December. Children and their high school mentors share in the joy and fulfillment of petting, grooming, feeding and walking a dog.
We Now Have 13 Partners
Our partnerships now number thirteen:
A Step Up Academy
Arch Street Preschool
Camp Pegasus
Carousel Connections
Hilltop Preparatory School
Judith Creed Homes for Adult Independence
Norwood School
Pan American Charter School
St. James School
The Friendship Circle
The Talk Institute and School
Uwchlan Hills Elementary School Autism Support Program
William Penn Charter School
Happy holidays from Nellie's! We appreciate your support in 2018 and wish you all the best going into 2019.