Nellie's Schoolhouse couldn't do the work it does without our human volunteers and their canine companions. Many thanks to Barbara and George, Kit and Mille and Franklin, Caryn and Max, Michelle and Daisy, Julie and Piper, Jack and Honey, Beth and Brinks, John and Zoe for being an essential part of our team. Our volunteers and their dogs are terrific, and we are grateful for their participation, passion and dedication.
Welcome to New Volunteers!
We are happy to welcome John Cappelli and his dog, Zoe, Beth Burns and her dog, Brinks, Jack Denbow and his dog, Honey, and Amy Cohen and her dog, Izzy, as our new volunteer teams. The all have already made some visits and did terrific work! We're so happy to have them.
We'll Miss You, Lynn & Lucy!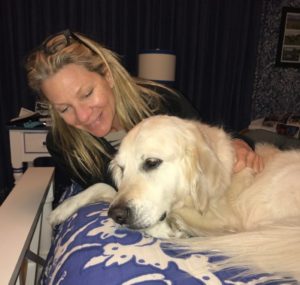 After being with us for two years, Lucy, whose human friend is Lynn Manning, is retiring from work with Nellie's Schoolhouse. Lucy is nine years old now, and after helping many children in our program, especially at the Talk School, she wants to sleep a bit more, chase a squirrel now and again, hang out with her family and just "chill." She has earned it. We thank Lucy and Lynn for all they have done for us and with us. We will miss them and wish them well.
Nellie's Schoolhouse looks forward to working with our old partners as well as new ones to come!