Nellie's Schoolhouse enjoyed another wonderful summer! Throughout June, July and August, we visited Camp Pegasus, the Judith Creed Homes for Adult Independence and led and taught a class for young people at Common Space in Ardmore.
Camp Pegasus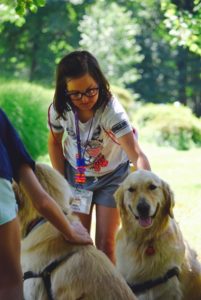 At Camp Pegasus in Rosemont, 32 children, ages 7-14, learned how to care for dogs, understand their body language and how to properly feed, groom and walk them. Whether it was Kayla who overcame her fear of canines with determination and courage, or Meg who gave all her love and kindness to our dogs, or Ben who celebrated every dog in our program, or Gianni whose personality and enthusiasm were contagious, all the children were talented, enthusiastic and focused. We thank all of them for their participation.
Judith Creed Homes
Our ongoing relationship with the Judith Creed Homes (JCHAI) continued this past summer. Meeting three times in June, July and August, 12 young adults spent one hour with our sweet dogs, discussing and learning about the gifts dogs offer us and understanding how to work with our canine friends in positive and productive ways. Our relationship with JCHAI continues to be affirmative and enjoyable.
Dog Walking 101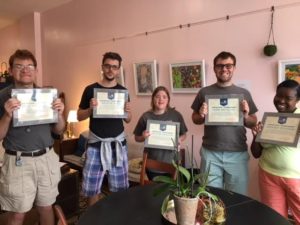 Our second Dog Walking 101 course, running for 6 weeks in June and July, featured instruction on the skills and steps necessary to become a professional dog walker. Isabelle, Nate, Bryn, Dillon, Liam and Natasha were invested and enthusiastic participants in our program at Common Space in Ardmore (in association with Carousel Connections), and earned their certificates of achievement, presented at our last class in late July.  We are grateful to Common Space for allowing us to use their wonderful room and supporting Dog Walking 101.
Nellie's Schoolhouse looks forward to an enjoyable and rewarding fall with more news-worthy highlights! Have a great September!