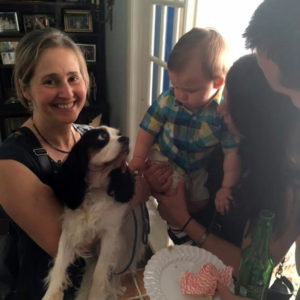 Nellie's Schoolhouse held its first ever friend-raising and fund-raising event at the home of Kit and David Feldman who played gracious hosts to 37 people. Volunteers, friends, prospective participants, supporters, board members and four dogs enjoyed invigorating and interesting conversation, followed by an introduction and oversight of the present state and future plans of Nellie's Schoolhouse by Tom Richards, executive director.  They then listened to words of wisdom and foresight from Nina Butler-Roberts, board member and Karen Misher, founder and board chair of A Step Up Academy. The evening culminated with Alicia Adnopoz, autistic support teacher at Downingtown Middle School. Alicia gave a thorough and informative presentation about Nellie's Schoolhouse's yearlong involvement at Downingtown.
Thanks are extended to Kit and David Feldman for opening their home, to those who attended and to those who continue to support Nellie's Schoolhouse.
Learn more about what Nellie's Schoolhouse will be doing this summer.