Welcome to Nellie's Schoolhouse
We connect children with autism, depression and anxiety to well trained and well behaved dogs. We are an ambulatory "classroom" in which our screened volunteers and their dogs visit children and their families in their homes over a predetermined period of time (after school and on weekends). As a parent of an autistic, depressed or anxious child, you are encouraged to explore and learn about the opportunities available for your youngster to be a member of Nellie's Schoolhouse. The relationship between a child and a dog has been proven to be powerful and life changing.

Your browser does not support the video tag.
See Nellie's Schoolhouse in Action
Thank You for Two Years of Support!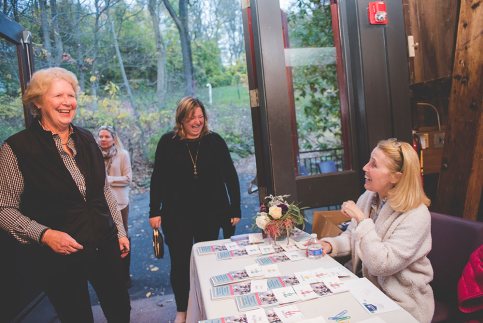 We Hope You Enjoyed the Last Two Years as Much as We Did
On November 5, 2017, 55 of our volunteers, partners, and supporters gathered at the Riverbend Environmental Center in Gladwyne. We spent the evening celebrating the work we've done, impacting the lives of more than 200 children with our seven volunteers and their dogs. We heard inspiring presentations from Amy McCann and Cormick White from Carousel Connections, and from Courtney Fox from the TALK School.
Where Can You Find Nellie's Schoolhouse?
Nellie's Schoolhouse is excited to be visiting a number of new schools and organizations this year. Zeke, Gus, and our volunteers are excited to meet so many new faces. Check out where you can find us.
Also, watch our video to follow Zeke as he visits the kids in the Autism Program at Uwchlan Hills Elementary School. 
Recent Posts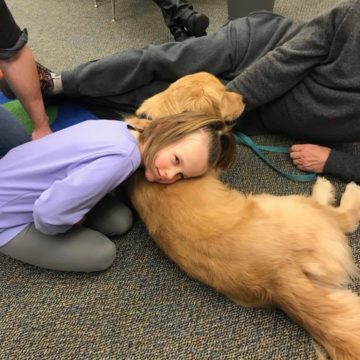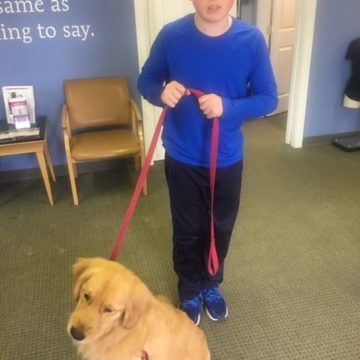 Our Goals
Our program helps children gain independence and self -confidence through the following activities:

Teaching a child how to properly approach, and pet a dog.
Teaching a child how to effectively groom a dog.
Teaching a child how to correctly treat and feed a dog.
Teaching a child how to safely and securely leash walk a dog.
Teaching a child how to give and implement verbal and non -verbal commands to dogs.
Teaching children how to understand the language of dogs and feel comfortable around their canine friends.
Children and their Families
We want the relationship between children and our dogs to be positive, stimulating, educational and most importantly, enjoyable. Therefore, just like with our volunteers and their canine companions, we ask children and their families to participate in a low-key and welcoming screening process. They are interviewed and assessed before they are accepted into Nellie's Schoolhouse. Our director and an educational counselor meet and speak with each child and her family before visits begin, as it is critical for our volunteer/dog teams and children/family teams to have a effective and comfortable match.
Our Volunteers
We want volunteers who love dogs and children. We want even more volunteers who are dedicated to the belief that dogs bring comfort, understanding, education and self confidence to the children they serve. We want volunteers who are patient, positive, enthusiastic, and flexible and passionately believe that every child is filled with goodness, talent and unlimited potential.