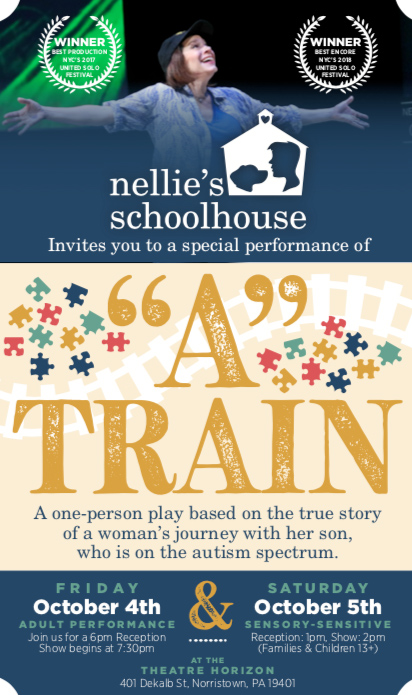 Nellie's Schoolhouse invites you to a special performance of "A" Train, an award-winning, one-person play based on the true story of a woman's journey with her son, who is on the autism spectrum.
When: One performance on October 4, 2019 and one performance on October 5, 2019. Each performance begins with a reception and ends with a talk-back. The reception will include food, drink and learning more about Nellie's Schoolhouse.
Friday, October 4th, 2019 (adults only). Reception begins at 6 pm and show begins at 7:30 pm. Note that there will be some profanity in this performance.
Saturday, October 5th, 2019  (open to adults and children 13+). Note this is a sensory-friendly performance. Reception begins at 1 pm and show begins at 2 pm.
Where: Theatre Horizon in Norristown (401 Dekalb St, Norristown, PA 19401)
Cost: The Friday performance is $50 per ticket. The Saturday show is $25 per ticket (18 and up) and free for kids 17 and younger. Admission includes reception (with food and drinks), the show & a talk-back session after the show.
Proceeds support services by Nellie's Schoolhouse. We provide and maintain ongoing therapeutic relationships between children and young adults with autism, depression and anxiety and well-mannered and well-trained dogs.
Who: If you have any questions, please contact Tom Richards by email trichards1654@gmail.com.
Check Out a Sneak Peak of "A" Train
Viewer discretion advised. This clip includes profanities and is not suitable for young children. 
Purchase Your Tickets
Complete the information below to purchase your tickets or donate to Nellie's Schoolhouse. Payments are completed through PayPal. You will receive a confirmation email from PayPal when your purchase is complete.
Note that you will not receive physical tickets. We will have a list of names at the door.