Our volunteers are dedicated to the belief that dogs bring comfort, understanding, education, and self-confidence to the children they serve. All of our volunteers and their dogs have been evaluated by a certified dog trainer to meet a strict set of standards. The dogs are periodically reevaluated to ensure they are well mannered enough to interact with our children.
Keep reading to get to know our volunteers and their pets!
---
Barbara Zuckerman
1) What are some of your interests and passions?
I love hiking with George (my dog) and friends, cooking,reading, playing cards and exercising. My best times are spent playing with my grandchildren and spending time with my husband.
2) Why did you decide to become a Nellie's Schoolhouse volunteer?
George can brighten anyone's mood by just being around him. He has a special way of engaging and based on my previous experiences, I believe that he is well suited for therapy work.
3) What has your past experience with dogs been like?
I have raised golden retrievers for forty years–George is number 5. All of my goldens have been sweet, loving and wonderfully behaved though each one has had their own distinct personality.
4) What is your home and family life like?
I am also known as Mom and Grandmom! I have two sons and a lovely daughter in law and as my children are grown and out of the house, my attention is focused mainly on my home, husband and my dog, a golden retriever named George. I am a born and bred Philadelphian and wouldn't dream of leaving this area.
5) Describe your dog.
George is very calm and intelligent with a natural curiosity. He is such a fun dog and lovely to look at–I can't walk down the street without someone stopping me to ask to pet him. He greets friends and strangers alike, calmly and with interest.
6) Do you have any personal stories about your work with children and dogs?
Prior to my sons being born, I worked with children who had multiple disabilities and then when my boys started school, I worked as a teacher's aide at our local elementary school. In addition, I trained two of my goldens to be nursing home visitors which brought me great joy.
---
Kit Feldman
1) What are some of your interests and passions?
I have been a freelance writer of nonfiction for the past twenty years and continue to write for various publications, including The Pennsylvania Gazette, the alumni magazine of University of Pennsylvania. In 2011, I co-authored "The Culinary Canine 30 Chefs Cook for Their Dogs" for BowTie Press (available on Amazon!). I have become known for my profiles of people and animals including Kentucky Derby winner, Barbaro.
2) Why did you decide to become a Nellie's Schoolhouse volunteer?
In my short time working with Nellie's Schoolhouse, I have seen the power of animal therapy. Children who begin with clenched fists are often able to open their hands flat to give a dog a treat over time and many who are frightened to pet animals end up walking them around the block.
3) What has your past experience with dogs been like?
I do not think there has ever been a time in my life when my family has been  dog-less. Writing about animals seems very natural.
4) What is your home and family life like?
I have always been an animal lover and grew up in Bryn Mawr, in a large family that included dogs and horses.
5) Describe your dog.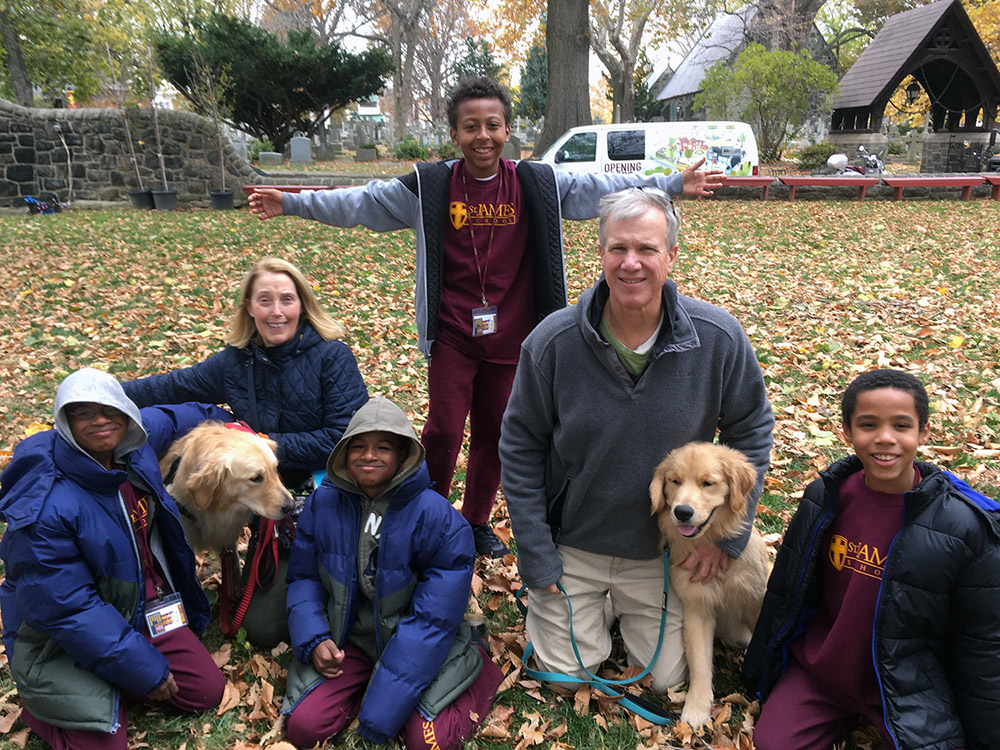 Millie, my Golden Retriever, is the first dog that I have ever owned that is perfectly suited to this kind of work. She seems to have a special affinity with children and truly it was Millie who inspired me to pursue this activity. Millie's breeder is very involved with Warrior Canine Connection, an organization near Bethesda that breeds service dogs to help veterans with PTSD, and I was, at some point, researching a book about their organization that never panned out. At some point, I would love to write about this experience, so perhaps this was all meant to be.
6) Do you have any personal stories about your work with children and dogs?
One little girl asked me for Millie's phone number so she could call her to invite her to visit. I am a first hand witness to the strength of the human animal bond and feel privileged to be able to follow Millie wherever she takes me.
---
Michelle Krietsch
1) What are some of your interests and passions?
I love to volunteer at my sons' schools and spend time with my husband, kids, and friends. I also love to work with Daisy as a volunteer with Nellie's Schoolhouse.
2) Why did you decide to become a Nellie's Schoolhouse volunteer?
I saw how Daisy brought joy to people but I also noticed how gentle and calm she was around kids with anxiety and fears. Also, when she was a puppy she sat next to a friend's child who was in a wheel chair for 2 hours as he pet her.
3) What has your past experience with dogs been like?
I grew up with Golden Retrievers and have always had a love for dogs. Daisy is my first dog with my family and she has brought us great joy!
4) What is your home and family life like?
I have a wonderful husband and 2 boys. We are busy with their school and sports schedule. We love to have friends over and enjoy our time at home.
5) Describe your dog.
Daisy is a sweet, calm, intuitive dog. She wants to be with other dogs and people all the time. She loves to ride in the car and take walks.
6) Do you have any personal stories about your work with children and dogs?
Daisy and I have been working with Nellie's since the fall of 2016. Every week we go back, the kids become more comfortable and are so excited to see Daisy and I. This experience has been more rewarding than I ever anticipated. I truly look forward to the time I spend with the children and learn more every week.
---
Julie Kronfeld
1) Why did you decide to become a Nellie's Schoolhouse volunteer?
The program and mission is easy to get behind and be in support of. Any time I can add the presence of my dog to my activities is a win for me as well. As a puppy, Piper joined me each day as I went to work in commercial real estate. She grew accustomed to new people and places at an early age.
2) What has your past experience with dogs been like?
My attachment to dogs was nurtured early in life by my mother and the dogs of my youth, Pluto (a miniature poodle) and Amber (an Irish setter). When I was growing up, I don't recall enforcement of leash laws. It was not unusual to open the front door and allow the dogs to walk themselves. The cats in my neighborhood still have that freedom, but now the dogs and their owners are tethered to one another on daily walks. It's a great way to be disciplined about exercise and a good way to meet your neighbors. My siblings are equally enthusiastic about having dogs in their lives, it's in our DNA.
3) Describe your dog.
My dog, Piper, is a 4-year-old female golden retriever. Her breeder attempts to minimize the health risks of in-breeding so Piper's father is from a field line and the mother is from a show line of the breed which means her coloring is amber and her shape is thinner than the pure show dogs. Piper's idea of a perfect day is to have breakfast, swim for hours in a lake diving for rocks, find a gaggle of kids at a park to join in play and get belly rubs in the afternoon, and chill for the rest of the day. Rinse and repeat.
4) Do you have any personal stories about your work with dogs and children?
Piper is a leaner, so when she greets people, she will lean into them and look to be pet. Most of the children respond to her positively and adjust themselves if they get nervous by any sudden movements that they don't expect from her. Likewise, Piper needed to adjust to the energy and commotion of the classroom when she started volunteering with Nellie's Schoolhouse. I remember when she came home from the first session, she was bug-eyed and wiped out afterwards. After a few sessions, it soon became familiar to her and now she is more relaxed in the classroom environment. I think the children who are uneasy around the dogs find the same experience–that the familiarity enhances their experience over time and they look forward to the next visit.
---
Jack Dembow
1) What are your interests/passions/hobbies?
I'm a retired Hospital CEO, and I never had any nervousness about what I would do in retirement. My husband Mark and I are avid travelers, and have been to all seven continents (including Antarctica) – most several times. I serve on the Board of Trustees of Ithaca College, and I'm an accomplished potter, with a complete pottery studio in our home. Honey and I are a registered Therapy Team and we visit The Meadow's at Shannondell every week, and Nellies Schoolhouse as needed.
2) Describe your past experiences with dogs.
Mark and I have had Golden Retrievers for almost thirty years. For most of that time, we've had two at a time. We think they keep each other company and get less lonely when we're away and, they're double the fun.
3) What is your home/family life like?
We're both retired now, so we have plenty of time to take the dogs to Valley Forge Park for long walks along the river. We spend much of the winter in Florida where the dogs can chase birds on the beach every afternoon. Sometimes we realize Honey has wandered away, but she's generally found sitting along-side someone on the beach who's willing to pet her for awhile.
4) Describe your dog.
Honey is a rescue from the Delaware Valley Golden Retriever Rescue (DVGRR), who thanks us every day with her gentleness and chill demeanor. Her brother Rolex is a bit more excitable – not a therapy dog, but delightful nonetheless. They love their daily walks, but they also love the routine of being home with us and "helping" us – no matter what we're doing.
---
Beth Burns
1) What are some of your interests and passions?
I love gardening & travel and I try to combine the two whenever possible. Chanticleer in Wayne is one of my favorite gardens in the area. My family recently completed a restoration of an older home & I have discovered a passion for old homes & interior design.
2) Why did you decide to become a Nellie's Schoolhouse volunteer?
Brinks has a wonderful temperament & always seems to make people smile. I was looking for something meaningful to do together and Nellie's Schoolhouse was mentioned by a friend. I have enjoyed the experiences very much & think Brinks feels the same way!
3) What has your past experience with dogs been like?
While I was growing up, my family had a great dog that was a much-needed source of comfort during the teenage years. I generally think just about everything is better if a dog is involved. Brinks is my second golden retriever & is a much-loved member of our family.
4) What is your home and family life like?
I have a terrific husband and a teenage son & daughter who are in high school.
5) Describe your dog.
Brinks is a sweet, funny, and eager to please dog that is very attached to me. He is right by my side when I am out in the yard & frequently is in the way of my gardening pursuits.   He loves people & tennis balls.
6) Do you have any personal stories about your work with children and dogs?
We have always had a golden retriever in the house since our children were born & I have loved watching them grow up together. One of my daughter's first words was the dog's name!  I think dogs can be a source of unconditional love and teach kindness, compassion & responsibility.  It is very rewarding to see the Nellie's Schoolhouse clients gain confidence after working with the dogs.
---
Caryn Harris
1) What are some of your interests and passions?
I am passionate about children and animals. I taught special needs children for a number of years. My family jokes that I was born with the animal –loving gene, as I have loved animals for as long as I can remember! Dogs have always played a central part of my life. I also enjoy sports, politics, and the arts.
2) Why did you decide to become a Nellie's Schoolhouse volunteer?
Nellie's Schoolhouse is the perfect blend of my passions for kids and dogs! I truly believe that a dog can make a difference in the life of a person, and can shape the life of a child in particular. A dog loves unconditionally – has no interest in your clothes or weight or grade you got on your last test, will never tell your secrets, is patient and can see right through to your heart.
This total acceptance by a dog can add confidence and reassurance to any child (or adult), but to a special needs person, it can make an even greater impact. Unfortunately, many children are afraid of dogs. I believe exposing kids to dogs and teaching them the appropriate ways of greeting, handling and behaving around dogs can make a huge difference to their quality of life.
3) What has your past experience with dogs been like?
I worked with my wonderful black Labrador, Pepper with an organization called Pals for Life for about 8 years. Pepper was a therapy dog and we visited hospitals, mental health facilities, schools, libraries, Senior Citizen homes together. We made many good friends (both canine and human) and have many heartwarming stories about our visits. I volunteer at an animal shelter and work with the dogs. This is my therapy!
I am on the PA Council for the Humane Society. The council consists of volunteers who care about all animals and try to advance state policy (and sometimes federal) that benefits animals. I have also been active in a number of projects initiated by the Humane Society – for example the Pets For Life Program, which helps families in underserved areas to care for their animals. Services such as vaccinations, spay and neuter, and other services are provided at no cost.
4) What is your home and family life like?
I have a very patient husband, 3 dog-loving kids, one wonderful grandson – and a great grand dog.
5) Describe your dog.
Mamma is a beautiful black Labrador. She had had a number of litters before she joined my family, in fact she was pregnant when she was rescued. A friend of mine (from the shelter) fostered her and the puppies. She was a wonderfully caring mom and it was evident that this dog did not have a mean bone in her body. She is very attached to me and is always at my side. I have never met a person or dog that doesn't fall in love with this wonderful dog!
6) Do you have any personal stories about your work with children and dogs?
I have many! Pepper and I visited a kindergarten class for special needs children once a month for the school year. One of the kids was non verbal and while he seemed interested in the dogs, he was not always focused on our activities. During the final visit, the other kindergarten classes (not special needs) were invited to join us. As Pepper and I walked in, this little 'non verbal' boy yelled, "This is Pepper. She is a black Labrador retriever!"
We also visited a program for teens who were suffering with depression. On most visits there would be one person sitting by herself in a corner. When approached and asked if she would like to pet the dog, she would indicate a definite 'No'. In almost every case, this person would slowly become involved, and ended up enjoying the session.
---
Rebecca Brame, CPDT-KA, KPA-CTP
Evaluation and Training Director
I am certified by the Certification Council for Professional Dog Trainers (CCPDT) and am a graduate of Karen Pryor Academy for Animal Training and Behavior. I am an approved AKC Canine Good Citizen (CGC) Evaluator. In addition to a passion for animal behavior, I am interested in the human animal bond and hold an Animal Human Health (AHH) certification from the University of Denver.
I am the owner of RubyDog Training, where I work with individual clients to build their relationships with their dogs, and to modify unwanted behaviors. I also teach puppy classes and basic behavior classes at the Pennsylvania Society for the Prevention of Cruelty to Animals (PSPCA).
In my training, I emphasize communication and achieve results through positive reinforcement. Training not only teaches manners but is instrumental in strengthening the bond between animal and person. I regularly attend seminars and conferences in canine behavior, behavior modification, and training. This helps me stay up-to-date on the latest scientific findings.
I live in Philadelphia with my 2 daughters, 2 dogs, a cat and a random assortment of guinea pigs, fish and turtles.
---